"Infrastructure Week" may have turned into infrastructure year, but as August recess approaches, Congress is closer than ever to passing historic legislation that would transform America's energy system.
Unsurprisingly, one major remaining sticking point is the price tag— and while the short-term view might be to put some programs on the chopping block in order to bring costs down, the long-term wisdom holds that certain initiatives actually save taxpayers money over the long run through their inclusion. Nowhere is this more ubiquitous than in energy efficiency programs, which almost universally save more taxpayer money than they spend by reducing energy costs. Here are a few energy efficiency policies which, if included in an infrastructure package, would result in nearly 1.5 million jobs and more than $100 billion of net savings.
THE POLICIES
It's a cliché in Washington to say that a program "pays for itself," but in the case of energy efficiency, that's simply true. Legislative proposals such as Open Back Better, energy efficiency tax modernization, and others substantively forward national climate policy, economic growth, and put money back into the pockets of the households and communities who most need it.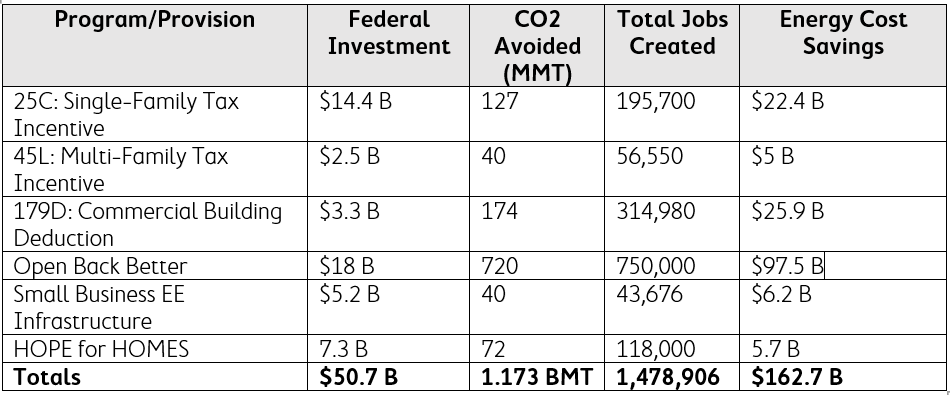 Chart compiled from data from the American Council for an Energy-Efficiency Economy's 2021 factsheet on clean infrastructure and 2020 analysis of COVID-19 stimulus solutions.
Energy efficiency must be the foundation of energy and infrastructure policy. Prioritizing energy efficiency legislation is common sense for our planet, for our communities, for our economy, and for our nation's wallet.